Why Garmin Pay?
It's simple and secure
With Garmin Pay, you can use your Gem Visa card to buy the everyday little stuff, in just a touch. And when you use Garmin Pay, your card details are never shared or saved.
Setup is simple
Add your Gem Visa card to Garmin Pay in three simple steps.
How to use
To pay in stores, enter your passcode, select your Gem Visa card from your virtual wallet, and then hold your wrist near the card reader.
Getting started
Once you've installed the Garmin app onto your iOS or Android smartphone, you can add your Gem Visa card to Garmin Pay.
Tap 'Create your wallet' in the Garmin app and enter a 4-digit passcode

Tap Visa to either fill in your card details or scan them using your smartphone's camera

We'll send you a one-time NetCode SMS. Use it to confirm you want to link your Gem Visa card to Garmin Pay. Your card will then be added to the virtual wallet on your Garmin Vivoactive 3 device

To pay using your Garmin Vivoactive 3 device, press and hold the action button then tap the wallet icon, enter your 4-digit passcode and hold your smartwatch to the card reader to pay. A green tick confirms it's been successful
To remove your card, simply tap the Vivoactive 3 device page in the Garmin Connect app > Manage Wallet > Swipe to find the card to remove > Tap Delete Card.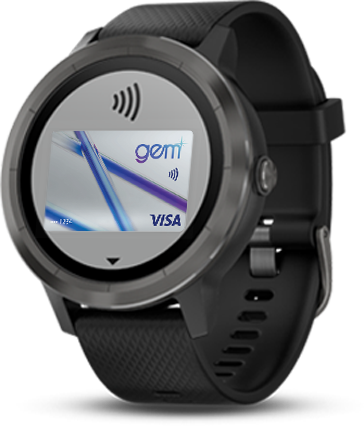 General information about Garmin pay
How to use Garmin Pay?
Managing my card in Garmin pay
Security
Which devices can I use Garmin Pay with?
How much will Garmin Pay cost?
Can I use Garmin Pay internationally?
Where can I find out more information about Garmin Pay?