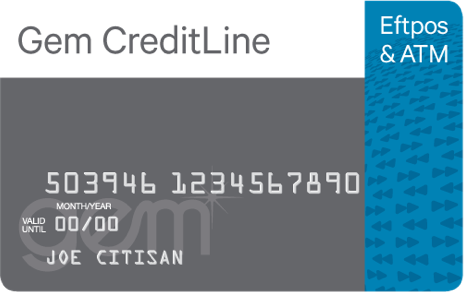 Gem CreditLine
Because Gem Visa is perfect for great deals and everyday spending, we don't offer Gem CreditLine anymore. But don't worry, if you don't want to switch, your Gem CreditLine card will keep working.
Have a Gem CreditLine?
Don't forget these great features
Get what you want. Now
Over 2000 retailers all around New Zealand offer long term interest free deals, so you can buy now and pay it off when you're ready.
Shop now, pay later
Spend over $100 at one of our participating stores, and you don't need to pay a cent for up to 120 days – yay!
Swipe and go
Use your Gem CreditLine card like an EFTPOS card – swipe it in store or take cash out from a money machine1. Super convenient.
Looking for a change?
Want more great features? With Gem Visa, you'll get the added convenience of an everyday Visa card, as well as all those interest free deals you know and love built in. Find out more.
Rates, Fees & Conditions Of Use
on purchases over $100 for 120 days at participating stores2
on long term deals at some of NZ's leading brands3
standard purchase interest rate
cash advance interest rate
Frequently asked questions
1Remember that cash withdrawals attract interest from the date of withdrawal/purchase at the prevailing interest rate (currently 29.95% p.a).
2Available at participating retailers only. Prevailing interest rate (currently 29.95% p.a.) applies after 120 days. Conditions, fees and charges apply.
3Long term interest free offers may vary. Available at participating retailers to approved applicants only. Conditions, fees and charges apply.